Healthy Smiles and Transformations
Take a look and find out why so many of Paul's patients become lifelong friends.
Here's to Years of Health
This happy patient says Paul's care over 18 years and counting is the key to problem-free teeth.
Care for All the Family
Paul's patient of over ten years explains why he and his family choose Paul for dental care.
To the Rescue
This lady talks about how family dentist Paul helped her son with dental bonding following an accident.
Straight-Up Great Value for Heather
Heather talks about her pain-free experience with clear braces following a friend's recommendation. And monthly payments made treatment even more affordable.
Case studies
Louise Cook
"Our regular open days are a chance for the public and patients to come and see what Smile More Clinic is all about. Louise attended one of our open days knowing that she wanted to improve her smile but unsure about how best to proceed. She was amazed by the smile simulation created by our hi-tech iTero scanner, which showed how Louise's smile could look after treatment. It took just five months of treatment with Invisalign, followed by bonding and whitening, to match Louise's smile to the preview she fell in love with. She absolutely loved the result!"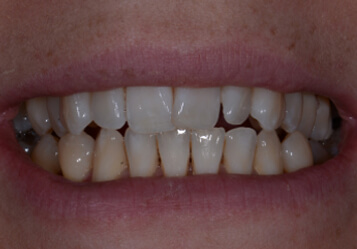 Kate Russell
"As someone who usually gets very nervous about anything to do with the dentist, Paul's SmileMore clinic is the first place where I always feel completely relaxed at every appointment. All the staff are so welcoming and friendly. Since starting my Invisalign treatment with Paul, I've not only seen great results but I've always been fully informed with everything that's happening and know that I am able to get in touch whenever I need to ask questions. I would definitely recommend this practice to everyone."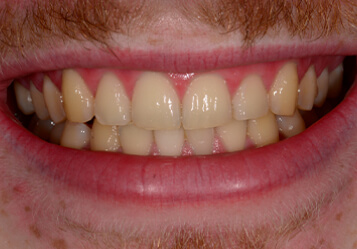 Luke Hackett
"I have been coming to Smile More Dental Care for as long as I know. Amongst general health check-ups over the years, the most notable procedures I have had are braces and teeth whitening - both of which were done to the highest standard. Having received compliments and enquiries about who the magician behind such procedures is, I have recommended numerous people to go and see Paul. Aside from the highest of standards displayed throughout, from the front door through to the dental chair, there is a very warm atmosphere created by Manoosh at front-of-house. I would say I look forward to my appointments as it means that we get to have a catch up! Only until recently have I begun to appreciate that a fear of dentists is quite common, perhaps because I was fortunate enough to never be in such a position. Either way, for any such notion to apply to any prospective clients I cannot recommend Smile More Dental Care enough."
Kind words from smiling patients